The majority of adults (94%) in the U.S. believe that suicide can be prevented, at least some of the time, and 96% of adults in the U.S. would take action if someone close to them was thinking about suicide, according to a national poll released by the Action Alliance and partners in 2022.  
These findings, which build upon surveys conducted in 2020, 2018, and 2015, underscore the importance of equipping people with the tools and resources needed to feel empowered to have conversations about mental health and suicide prevention, and to take steps to care for their own mental health. 
Positive social connections have been identified as an important protective factor for suicide. When you take action to build connectedness and #BeThere for others, hope becomes a reality. 
Visit our #BeThere: Words From EXCOM page to hear from our Executive Committee about why they are involved in the work of suicide prevention and what they would encourage people to do to promote hope and help seeking.
Amplifying #BeThere Messaging Now and All Year Long 
The Action Alliance works collectively with its partners to leverage existing campaigns focused on educating the public about the ways they can take action to support themselves or a loved one who is struggling or in crisis.                                                            
For other information and resources that advance #BeThere messaging, please review Ideas for Action from SPRC, the CDC's A Time for Connection Toolkit, SAMHSA's 988 Suicide Prevention Month Social Media Shareables, and the American Hospital Association's Suicide Prevention Resources.
Suicide Prevention Month 2023 
During September 2023, the Action Alliance and our partners amplified suicide prevention messaging by adding #SPM23 to social media content. 
Action Alliance #BeThere: Words From EXCOM campaign
The Action Alliance highlighted our Executive Committee members during #SPM23 through a series of social media posts, featuring their words on why they are involved in the work of suicide prevention. These quotes can be found on our #BeThere: Words From EXCOM page.
Suicide Prevention Month 2023 E-Blasts:
Through a series of e-blasts, the Action Alliance helped equip organizations with the necessary resources, tools, and events to plan for and participate in this important national conversation.  
Sign-up for our email updates to get all of our Suicide Prevention Month news in the future.    
Suicide Prevention Month Calendar of Events
September 5: Action Alliance #BeThere Twitter Chat at 1:00 p.m. ET. (Check out the 2023 #BeThere Twitter Chat Recap)
September 10: National American Indian/Alaska Native Hope for Life Day
September 10: World Suicide Prevention Day
September 13: AFSP Special "Ask Dr. Jill" Episode at 3:00 p.m. ET
September 17: National Physician Suicide Awareness Day
September 19: National Institute of Mental Health Facebook Live at 2:00 p.m. ET           
September 26: HHS Center Launch of HOPE: A Guide for Faith Leaders on Youth Suicide Prevention at 3:00 p.m. ET      
September 26: TAPS "Grieving Military Suicide: Prevention Through Survivors' Eyes" at 12:00 p.m. ET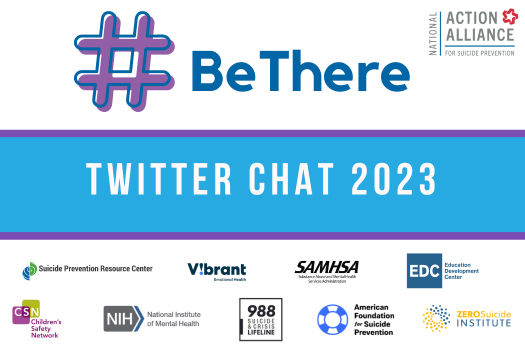 If you have questions about our #BeThere messaging efforts or our work to unite the field during Suicide Prevention Month, please email mlynch@edc.org.