A national poll conducted in 2020 found that while 95 percent of those surveyed would do something if someone close to them was thinking about suicide, almost 70 percent of respondents identified barriers that keep them from discussing suicide with others. These barriers included not knowing what to say, feeling they don't have enough knowledge, or not feeling comfortable with the topic. As a result of the pandemic, however, the majority of those surveyed say that it's more important than ever to make suicide prevention a national priority. In addition, more than half of Americans are more open to talking about their own mental health due to the pandemic. These findings, which follow earlier surveys conducted in 2015 and 2018, underscore the importance of equipping all Americans with the tools and resources needed to feel empowered to have conversations about mental health and suicide prevention, and to take steps to care for their own mental health. 
To ensure the public is informed about the actions they can take to help those in their life who may be in crisis—during Suicide Prevention Month (#SPM22) in September and all year round—the Action Alliance is leveraging the good work of existing campaigns (#BeThe1To, #ReachOut, and Take 5 to Save Lives) that focus on the importance of being there for others.
The Action Alliance and its partners will collectively unite in September and throughout the year to educate the public about the many ways they can take action to support a person who is struggling or in crisis. Through a series of e-blasts leading up to September, the Action Alliance hopes to equip organizations with the necessary resources and tools to plan for and participate in this important national conversation. 
Learn more about the existing campaigns and utilize their materials in your organization's messaging in September and beyond. Help is available and hope is a reality.
Our Partners' #BeThere Resources
Reach Out -- U.S. Department of Veterans Affairs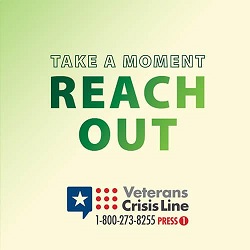 Take 5 to Save Lives -- National Council for Suicide Prevention


Additional Resources