Faith.Hope.Life: The Role of Faith Communities in Suicide Prevention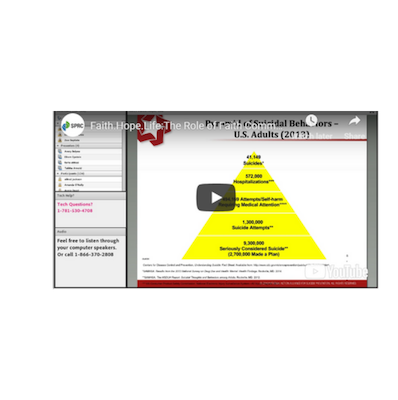 Faith communities of all traditions have an important part to play in fostering mental health and helping prevent suicide. Faith leaders are on the "front lines" -- the first people many turn to in times of emotional or spiritual crises. Moreover, our congregations offer the faith and hope needed to get through the most difficult of times.
The Role of Faith Communities in Suicide Prevention webinar offers practical information about suicide prevention for faith leaders, and highlights the many ways congregations foster mental health--through "communities of connection," narratives of hope, worship and educational resources, and advocacy in the wider community.
The webinar provides an overview about an exciting initiative entitled Faith.Hope.Life.; a campaign designed to equip faith community leaders with resources and information about suicide prevention. The webinar also provides gudiance about how to use Faith.Hope.Life. to promote mental health and wellness, and prevent suicide within the context of faith communities.
The webinar is for faith community leaders (clergy and lay) and suicide prevention practitioners who are interested in working with faith community leaders to help prevent suicide. (Access to webinar is below.)
Webinar speakers include:
Rev. Talitha Arnold, Co-lead Faith Communities Task Force, Senior Minister United Church of Santa Fe (United Church of Christ)
Dr. Farha Abassi, MD, Assistant Professor of Psychiatry and Core Faculty, Muslim Studies Program, Michigan State University
Efrem Epstein, Founder, Elijah's Journey (a non-profit focused on suicide awareness/prevention in the Jewish community) and Chief Medical Officer, Docz (an online community for those struggling with issues related to mental health)
Webinar learning objectives/goals include increased understanding about:
the components of the Faith.Hope.Life. Initiative
how the Faith.Hope.Life. website serves as a go-to resource for the broader topic of suicide prevention and faith communities
how faith leaders and congregations can build on the strengths of their faith traditions to foster mental health and help prevent suicide