Webinar: Aligning the Field Around a 988 Messaging Framework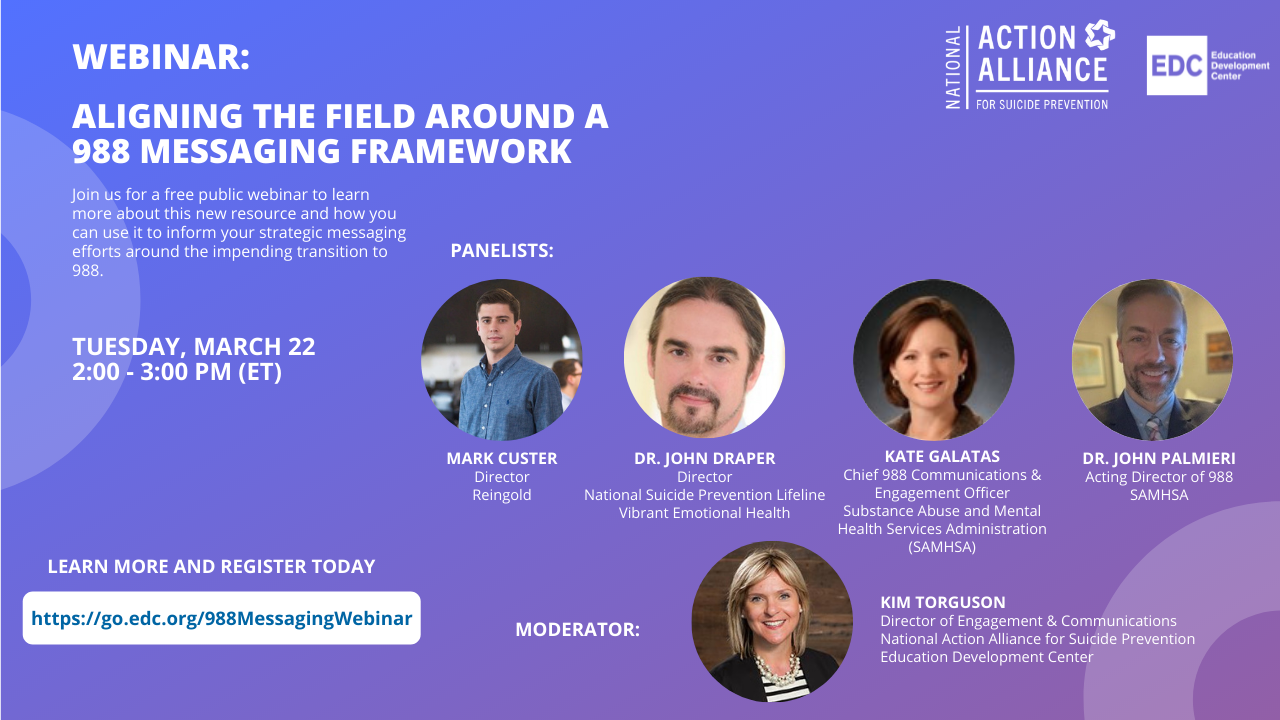 Access the event recording here. 
In July 2022, the National Suicide Prevention Lifeline (800-273-8255) will transition to 988—an easy to remember three-digit dialing, texting, and chat code for anyone experiencing a suicidal or mental health crisis. To help public messengers—including state agencies, crisis centers, non-profit organizations, businesses, foundations, and others—in determining when and how to best communicate about 988, the National Action Alliance for Suicide Prevention (Action Alliance), is releasing a 988 Messaging Framework next month. Developed in collaboration with a 988 Messaging Task Force co-led by the Substance Abuse and Mental Health Services Administration (SAMHSA) and Vibrant Emotional Health, the 988 Messaging Framework will serve as a roadmap of key elements to consider when planning a messaging strategy around the transition 988. This resource provides general guidance to the field around when and how to develop public messages about 988 and is not intended to provide tailored, audience-specific, ready-to-use messaging.
Join the Action Alliance on March 22 at 2:00 p.m. ET for a free webinar—Aligning the Field Around a 988 Messaging Framework—to learn more about this new resource and how you can use it to guide your public messaging efforts. During this hour-long webinar, participants will:
Learn how to utilize the 988 Messaging Framework to inform strategic messaging efforts ahead of and following the nationwide transition to 988 in July 2022.

Have an opportunity to hear directly from the national leads of 988—SAMHSA and Vibrant Emotional Health—about 988 implementation and communications and the importance of aligned messaging across the field.  
Panelists for the webinar include:
Ms. Kim Torguson, Director of Engagement & Communications, National Action Alliance for Suicide Prevention, Education Development Center (moderator)
Mr. Mark Custer, Director, Reingold
Dr. John Draper, Executive Director, National Suicide Prevention Lifeline and Executive Vice President, National Networks, Vibrant Emotional Health
Ms. Kate Galatas, Public Sector Co-Lead, 988 Messaging Task Force, and Chief 988 Communications & Engagement Officer, SAMHSA
Dr. John Palmieri, Acting Director of 988, SAMHSA
The Action Alliance thanks Executive Committee (EXCOM) partner Johnson & Johnson—Janssen for providing support for the development of the 988 Messaging Framework.