Bringing together public and private sectors to lead a coordinated mental health and suicide prevention response
According to a recent Gallup online survey, Americans say their mental health is suffering more than their physical or financial health due to COVID-19. Our country has never witnessed a public health and economic event of this proportion in recent history. The pandemic has and will continue to take its toll, especially on Americans' emotional well-being. While no home is immune from the stress and anxiety in these unprecedented times, it's magnified even more in households struggling to make ends meet, especially among our nation's most vulnerable citizens. And research shows that there can be lasting mental health impacts during and immediately following a disaster.
National-level action around mental health and suicide prevention is urgently needed. Now.
As a national convener, the National Action Alliance for Suicide Prevention (Action Alliance)—the nation's public-private partnership—is mobilizing diverse sectors to collectively lead a coordinated mental health and suicide prevention response effort during and in the aftermath of COVID-19.
Through the Mental Health & Suicide Prevention National Response to COVID-19 (National Response), our diverse partners are bringing their best in science, innovation, and leadership to create sustainable and comprehensive solutions to the mental health impacts of this pandemic. While we address immediate needs, we also understand the urgency to prepare now for future needs by mitigating risks and building resiliency.
We are responding boldly and without hesitation. By acting now and uniting together—across sectors and agencies—we can emerge stronger than we were going into this pandemic. Together we will: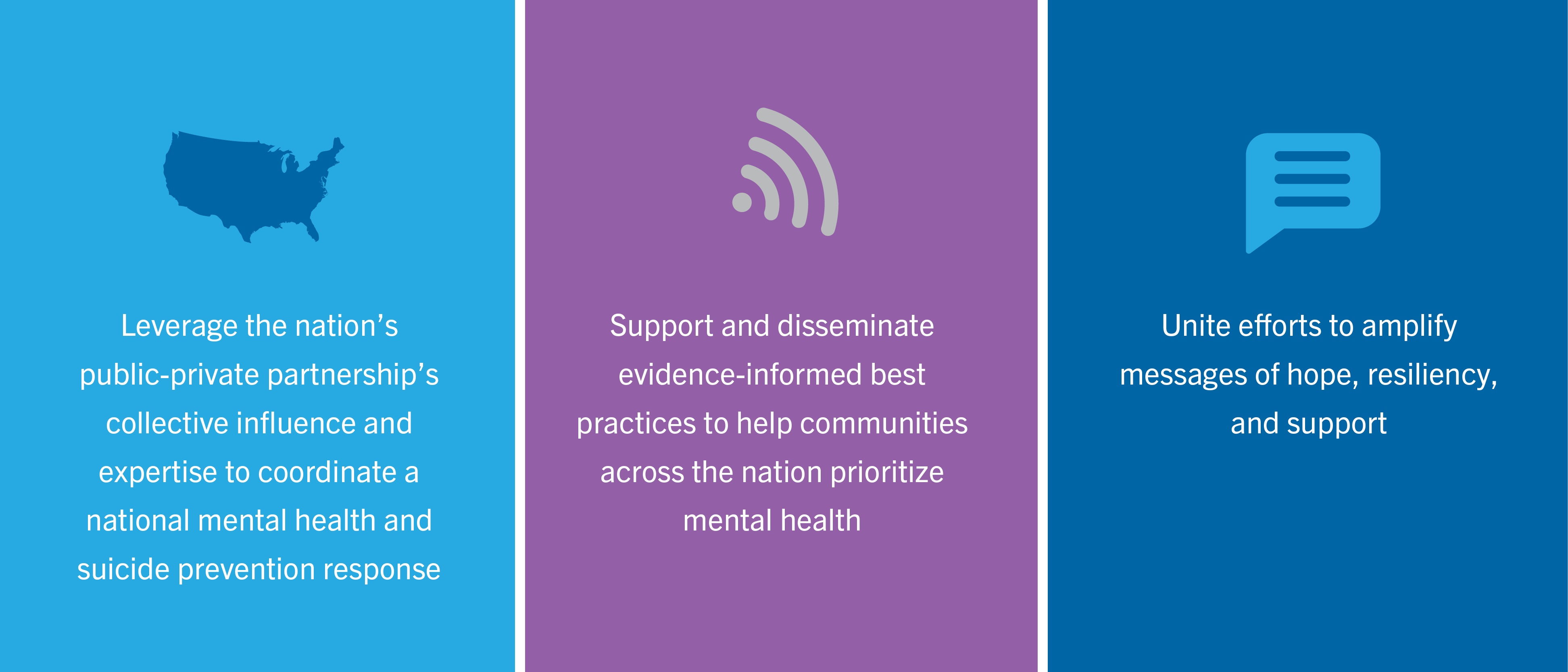 Through this National Response, we have a unique opportunity to address this unprecedented event with unprecedented collaboration—ensuring we change the trajectory of our country's mental health and suicide prevention efforts.
Everyone can play a vital role. Together, we can make mental health a priority like never before and move forward with resilience until COVID-19 is closed in our history books.
To help support immediate messaging efforts, the Action Alliance and its partners have compiled a list of COVID-19 Messaging Guidance resources for public messengers and other specific audiences, as well as some COVID-19 Mental Health and Suicide Prevention Key Messages.
Our Leadership
The work of the National Response is being guided by a Steering Committee of diverse senior leaders from both the public and private sectors, under the direction of its Co-Chairs. To view a full list of current National Response Steering Committee members, click here.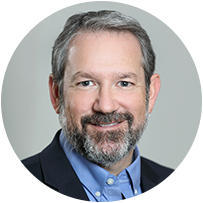 Director, National Institute of Mental Health
The collective work has the potential to change the way our country views, treats, and talks about mental health and suicide for generations to come.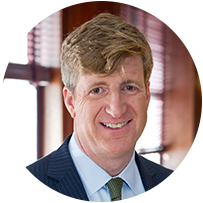 Former U.S. Rep. Patrick J. Kennedy
Founder, The Kennedy Forum
This pandemic will fuel the fire of our country's mental health crisis unless organizations unite in a call to action. There's no more time for debate and discussion–we need all hands on deck to fast track the strategies we know will work.
Get Involved
You can play a key role in helping to advance the work of this critical new initiative in the following ways:
Join the Discussion: Share news and information about the National Response across your social media channels by tagging @Action_Alliance and using #NationalMentalHealthResponse.
Promote this Collective Effort: Promote this coordinated effort by sharing the National Response website (NationalMentalHealthResponse.org).
Donate Today: The Action Alliance relies on support from both the public and private sectors to sustain and advance its efforts. To learn how you can support the National Response, click here.
Questions? Contact us at info@theactionalliance.org.