Talking About Teens, Technology, and Suicide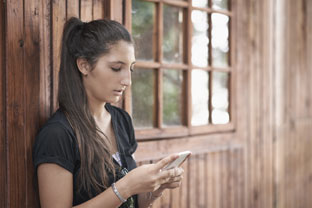 Students are heading back to school, and with that comes the everyday stress and social and academic pressures that for some can spiral into crisis. Data from the Centers for Disease Control and Prevention indicates suicide is the third-leading cause of death among youth ages 10–24, and 17 percent of US high school students report they seriously considered attempting suicide in the past year. In a digitally connected world — where, according to the Pew Research Center, 92 percent of teens go online daily and 72 percent report they spend time with friends on social media — it has become critically important to devise suicide prevention tools and resources that can reach youth where they socialize: online
On Wednesday, Sept. 9 — during Suicide Prevention Month — the National Action Alliance for Suicide Prevention convened a panel of leading suicide experts, youth influencers, and people with firsthand experience with suicide to discuss how social media is being used to reach teens in crisis. Check out the full webinar.
Speaker Bio:
Ariel Blackwood
Speaking on personal experience
Ariel Blackwood is a junior at Furman University, where she is majoring in communications and religious studies. She is a passionate advocate for suicide prevention efforts, having lost her brother to suicide in 2008; she subsequently suffered bouts of depression and twice attempted suicide. She now has plans to attend law school, with the goal of working on suicide prevention legislation, and to continue to provide hope and break the silence of suicide.
David Bond, LCSW
Vice President of Programs, The Trevor Project
David Bond is a licensed clinical social worker and a board-certified expert in traumatic stress. He is the vice president of programs at The Trevor Project, a national organization providing suicide prevention and crisis intervention services to lesbian, gay, bisexual, transgender, and questioning youths, and oversees its crisis services, which include a 24-hour telephone hotline in addition to chat and texting platforms. He has more than 12 years of experience as a psychotherapist specializing in the treatment of young survivors of trauma.
Max Mars
Speaking on personal experience
Max Mars is a 21-year-old comedian from Minnesota who was diagnosed with depression when he was just 13 years. In speaking engagements at schools to teachers, students and parents, he has been an advocate for the proper treatment of depression for teens and young adults. He hopes to one day be able to speak around the country about mental health issues and share his comedy and insight with others who may be struggling.
Chad Moses
Music and Events Coordinator, To Write Love on Her Arms
Ten days after receiving his diploma from the University of Virginia, Chad Moses found himself unloading his car in Florida for the first term of an internship with To Write Love on Her Arms (TWLOHA), a nonprofit that aids young people dealing with addiction, depression, self-injury, and suicidal thoughts. As a member of the organization's music and events team since 2008, he has had the opportunity to stage-dive in seven countries and on three continents. When he's not finding creative ways to collaborate with musicians, festivals, and entertainment companies, Chad speaks on behalf of TWLOHA at concerts and other venues, on college campuses, and on the group's blog.
Dan Reidenberg, Ph.D.
U.S. Representative, International Association for Suicide Prevention;
Managing Director, National Council for Suicide Prevention;
Executive Director, Suicide Awareness Voices of Education (SAVE)
Dr. Dan Reidenberg is the executive director of Suicide Awareness Voices of Education (SAVE) and managing director of the National Council for Suicide Prevention. He is also the U.S. representative to the International Association for Suicide Prevention and is the author of a number of books and journal articles about suicide prevention and media reporting. In 2011, he represented SAVE when the organization was named by the White House as a Champion of Change in the area of suicide prevention.
Victor Schwartz, MD
Medical Director, The JED Foundation
Dr. Victor Schwartz is medical director of The Jed Foundation, a suicide prevention initiative focusing on college students. He came to the foundation in 2012 from Yeshiva University, where he was dean of students and director of the university's counseling center. He is a clinical associate professor of psychiatry at New York University School of Medicine and has served as medical director and chief psychiatrist at the NYU Counseling Service and an assistant director of residency training in psychiatry. A Distinguished Fellow of the American Psychiatric Association, he was a member of the association's Presidential Task Force on College Mental Health and was co-chair of its working group on legal issues and college mental health.
Jack Benson [Moderator]
Action Alliance EXCOM member
Co-lead, Public Awareness and Education Task Force
Jack Benson, a partner at Reingold, Inc., has more than 25 years of experience leading and advising companies, associations, and federal agencies on growth strategy, marketing and communications, and operational issues. He currently oversees several national mental health and suicide prevention campaigns, including the U.S. Department of Veterans Affairs Make the Connection and Veterans Crisis Line initiatives. He serves as chairman of the board for the Military Family Advisory Network and trustee of the Washington Waldorf School. He is a member of the executive committee of the National Action Alliance for Suicide Prevention and is co-lead of its public awareness and education task force.