National Response Congressional Briefing Series - Rethinking Workforce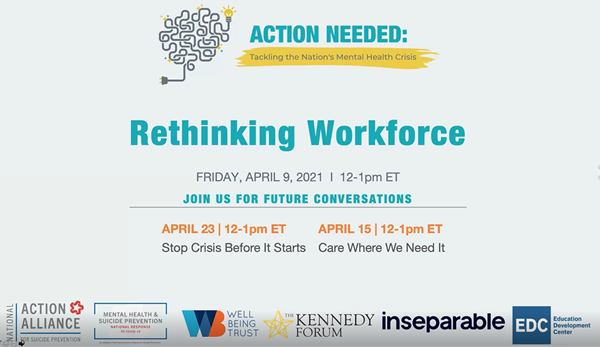 Access the event recording here.
This conversation is the third in a series of briefings from the National Action Alliance for Suicide Prevention's Mental Health & Suicide Prevention National Response to COVID-19 (National Response), called "Action Needed: Tackling the Nation's Mental Health Crisis." This conversation discusses how we can best equip the current, future, and community workforce to better address mental health and addiction, and features Ben Miller (Well Being Trust), Kelly Davis (Mental Health America), Rachel Nuzum (The Commonwealth Fund), Dr. John A. Naslund (Harvard Medical School), Dr. Shekhar Saxena (Harvard School of Public Health), and Priscilla Guiterrez (The Confess Project). For more information about the National Response, visit https://nationalmentalhealthresponse.org.